Thank you for joining Flipline Fandom!

Welcome to Flipline Fandom. We're a collaborative community website that provides details about the characters, fan games, tournaments, apps and platformer games created by users of this wikia, you can participate!

In this wiki, you will see all the fans of Papa Louie and Flipline Studios come together.

Top Article of the Month
(923 viwes)
Papa's Pizzeria is the first of Flipline Studios' popular Papa Louie series of restaurant time-management games. It was released on August 7, 2007. Read More...
Top Visited Image
(8 viwes)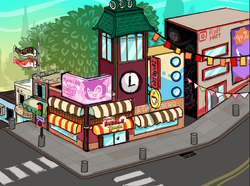 Top Customer of the Month
Papa Louie
(100 viwes)

Papa Louie is a lovable Italian chef who got his start selling delicious pizzas. He has a legion of fanatic customers who are willing to try anything Papa Louie has to offer. Whether it's free pizza parties, or the keys to his latest restaurant, Papa Louie is always trying to reward his loyal customers! Read More...
Top 10 Countries of the Month

Oficial Webs of Flipline
Flipline Studios • Papa Louie Arcade! • Remnants of Skystone
Canon Flipline Game Wikias
Flipline Studios Wiki • Remnants of Skystone Wiki • Cactus McCoy Wiki • Steak and Jake Wiki • Jacksmith Wiki
Other Fan Cannon Wikias
Fan Papa Louie Customers Wiki • Flipline Studios Fanon Wiki • Flipline Studios Fans Wiki

Visit our wikia in other languages.
Community content is available under
CC-BY-SA
unless otherwise noted.